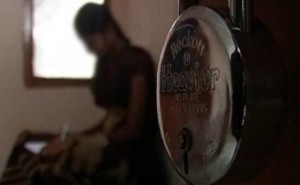 A 15-year-old schoolgirl in India, who returned home after being forced to marry a man more than double her age, has been served a legal notice reminding her of her "conjugal duties".
The police say they can't take action without a complaint, as child marriage is not automatically illegal.
She has gone to child rights activists for help.
The teen was preparing to write her Class 10 exam in February last year when she was forced to marry a cousin 20 years older. She says she was pressured by her family, who claimed that her aunt was dying and would like to see her son married.
Before she could protest or even realize what was happening, she was married.
"It happened very suddenly. He was more than 35 years old. I didn't know at that time," she told NDTV.
Her one condition was that she should be allowed to sit for her exams and study further.
After her exams, she was sent to her husband's home, where she was allegedly assaulted almost daily – physically and sexually.
Two months after the wedding, she returned home, unable to bear it any more. Her parents welcomed their only daughter home.
When they asked her husband's family to return one lakh rupees dowry and gold given to them, the teen was sent a legal notice asking her to "resume" sex with her husband.
The girl contacted Anuradha, who is part of a government-run social action group that offers paralegal services and counselling to those in distress. She called a Panchayat meeting with village elders for both sides to try and resolve the fight. But the husband allegedly refused to give in.
"The husband turned up with two lawyers and said instead of returning money to her parents, he would pay lawyers," Anuradha said.
"Even the priest who performed the wedding should know how old the girl is, the age difference between the groom and bride. There should be a panchayat record on the age of girls, so there can be a check. They made the young girl a sacrificial lamb," commented the activist.
Achyutha Rao, a Child Rights Commission member, said it was appalling that a minor girl was being served legal notice on sexual duties. "The accused is not being booked. Instead, a legal notice has been sent to this 15-year-old girl for restitution of conjugal rights. We are going to file a criminal case against the lawyer," Mr Rao said.
When contacted by NDTV, the lawyer said he was not aware that the girl is a minor.
The teen, who now goes to junior college, does not want to go back to her husband. "I want to study and do well on my own merit," she said.
Legal experts say the girl would need to approach a court before the lapse of one year of marriage to get the marriage declared null and void. Getting the 'husband' to return items given as dowry may require filing of a separate criminal case or an out-of-court settlement.