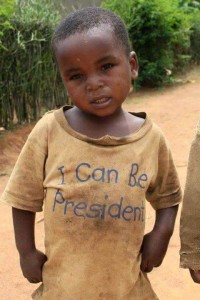 Welcome to the month of December, 2015. The month of celebration of selfless and sacrificial love. Do you believe that this child can really be president? Faith without work cannot be fruitful. Don't just believe but do something to help him realise his dream. This starts by helping him to be alive and at least look good. There are so many such children identified by CRACO in the streets and so many within the families. If not at any time, at least in this festive season, they need to eat well and look good. Can you make the joy of the season extend to such people? Yes, you can! Can you provide anything for them and their families this season? New clothes, used clothes, food stuff, money etc; if you can, please do and put smiles on the faces of less privileged children this season and be bountifully and generously blessed
by their creator. Trust us, we will ensure your gift touches the lives of such children and their families, for that is why we exist- bringing their sorry stories and states to your consciousness and awareness, so that you may reach out to them through us if you are touched and moved to do so.
Whatever you have for the less privileged children and their families this season please we shall be glad to help you distribute it to them. You can send it to our office at No. 12, Adegbola street, off Awolowo way, Anifowoshe, Ikeja, Lagos; or you can contact us on 08067663025, 08028468268 and we will come and pick it anywhere within Lagos state. Cash gifts can be sent to our ECOBANK Account No.5702026771. Cheques should be issued in favour of Child Rights Awareness Creation Organisation.
In appreciation we shall send you our 2016 Calendar and a copy of our book titled "IN PURSUIT OF TRUE SUCCESS" which contains 15 chapters. Chapters that has topics like MEANING AND MYSTERY OF TRUE SUCCESS, LOCATING THE HIDING PLACE OF TRUE SUCCESS, THE LIFE YOU SAVE MIGHT BE YOUR OWN and WHY WE SHOULD HELP THE LESS PRIVILEGED, amongst others may be of great benefit to you in terms of transforming your life for the better.
We shall continue to pray for you so that year 2016 shall be a more prosperous year for you and your family, so that you may be better positioned to do more for the less privileged.
We hopefully await your gift. Thank you
– CRACO TEAM