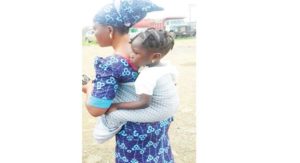 The Ogun State Police Command has arrested a couple living on Unity Road, Mosafote, Ibafo, for allegedly trading in children.
The suspects were identified simply as Morenike and Shittu.
Their neighbours became suspicious a few months ago when the woman would allegedly bring a child home in the evening and take the child away the following day.
She was said to have done so on four occasions before she was caught on Monday, October 16, with a four-year-old girl, who was reportedly abducted in Ibadan, Oyo State.
It was gathered that neighbours started to closely monitor Morenike after she brought in the four-year-old girl around 9pm on Sunday.
She had strapped the victim to her back and was leaving the neighborhood when a community leader, Chief Toyeeb Balogun, confronted her.
Balogun said: "We then took her to FSARS in Warewa. Her husband came to the station and told the police that she usually brought the girls from Ilorin (Kwara State).
They asked him what the children were used for, but he said he did not know. Both of them have been detained. This is the fifth time she would be seen with an unknown child."
The baale, Chief Sakiru Ademuyiwa, also said: "When she was interrogated by the police, she said the parents of the girl were in Ijebu.
But the child told us that she lived with her parents in Agodi, Ibadan, Oyo State. She said her father's name is TK. I have told the police to handle the matter very well.