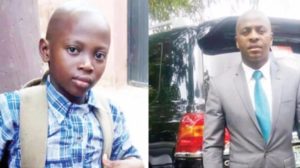 A 10-year-old Nigerian boy identified as Isaac Oghenekewe has gone into a state of depression that has made him to break down after being taunted to be fatherlss by his school mates.
The 10-year-old boy and his father
The primary four pupil of Best Brains Nursery and Primary School in Ede, Osun state has been mocked several times by his class mates over his fatherless status. Oghenekewe has lived the few years of his life in the dark as he does not know his father. The young boy usually breaks into tears when his mates have the attention of their fathers on special occasions like their birthdays. His peers have gone as far as calling his father an irresponsible man for leaving him to the care of his mother and grandmother.
"I don't know my father; I want to see him. My friends in school ask me where my father is; I tell them he doesn't live with us. They say my father has never come to pay my school fees or take me to school. They laugh at me, which makes me cry. I want to know my daddy," he said. This trauma has resulted in the poor academic performance of the boy who is keen on meeting his father. Oghenekewe's mother's name was given as Omolewa Ashiru. She had been romantically involved with his father, Lawrence Oghenekewe, while she was in Ogun state.
The father was said to have been a civil engineer who got her pregnant in no time. Ashiru gave birth to the young boy in October 2006 after every effort to abort the pregnancy failed.
She had the baby in Ibadan after she relocated. Oghenekewe's grandmother revealed that his father showed up on his naming ceremony in Ibadan; he has since then disappeared into thin air as he did not come back for his child.
The grandmother went on to state that she stopped calling his father three years ago when he refused to come for his son. His excuse was that he was very busy at work.
The poor old woman has been responsible for the upkeep of the little boy since his mother's income can barely sustain her.