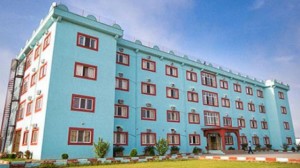 Parents and guardians have started withdrawing their children and wards from Nigerian Turkish International College (NTIC) located at Isheri, Ogun state following the abduction of five female students and three staff members.
According to BUSINESSDAY, a drove of parents and guardians trooped to the school.
The parents urged government and security operatives to beef up security schools in the state.
Ahmad Tijani, a parent whose child was one of the kidnapped students, demanded the school management to shut down for two weeks at least for them put up adequate security around the school.
He argued that the remaining students who have been traumatised should be given break in order to get over the experience.
Hanatullah Ajani, his 22-year-old child, was part of those abducted since she was in the school to study for the coming JAMB exams.
"Somebody called in the midnight that something happened here and my daughter was involved, I had to come down this morning and the Police Commissioner addressed us assuring that they would work on it and that everything would be alright very soon," he said.
"I am very sad but prayerful that the they are rescued on time, as I am standing, I am traumatised you can imagine a girl of 22 preparing for University and somebody took her away. It is a big loss."
Another parent, Funmi Tijani said, "We parents jointly resolved and agreed that we have to take away our children at least for the first one week, until we are convinced about perfect security arrangement in place. The road is not tarred, no security light, bushes all around. Last year, the school was closed down for two weeks because of flood. What we are saying is that 'let there be adequate security.
"We are taking our children away, we have agreed among ourselves to take our children away for a week, my daughter saw them, witnessed the whole scenerio and she has been traumatised. Psychologically, they are not balanced, you don't expect me to leave her behind."
Yunus Dogan, principal of the school and Stephen Adewunmi, security adviser, said the gunmen came into the school and started shooting sporadically.
They said that the abductors immediately made their ways into the female hostel where three students were kidnapped alongside the house mistress and a Turkish teacher that teaches Mathematics in the school.
They added that two students who were also studying for JAMB exams were also whisked away as well as a cook who was also taken away from the kitchen.
The management explained that the abductors dug a big hole through the fence of the school from where they escaped out to the bushy, swampy area at the back of the school.
Source: The Cable