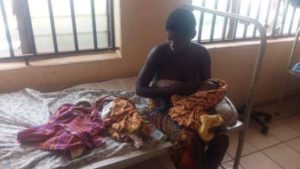 It was gathered that 35-year-old Ukamaka, who was Nkwegu's third wife, gave birth to the triplets – two boys and a girl – at a traditional maternity home in Abakaliki, the Ebonyi State capital, three weeks ago.
It was gathered that the woman was forced to approach the traditional maternity home as opposed to going to the hospital as a result of her husband's complaint that he had no money.
It was learnt that Ukamaka, who does menial jobs to cater for herself and the children, had earlier given birth to a set of twins and another single child before giving birth to the triplets.
However, since she was delivered of the triplet, the mother had been begging for assistance from well-meaning Nigerians as her husband had disappeared from home and refused to pick her telephone calls.
The woman is currently staying at the traditional maternity home, Obegu Village in the Ozibo Local Government Area of Ebonyi State.