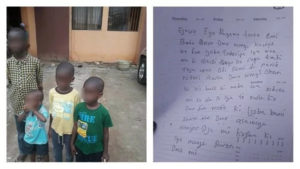 A Lagos based man has allegedly dropped off his 4 children for the government to take care of.
The man was said to have taken the 4 boys to Agege local government "area A-maternity office" attached with a letter written in Yoruba language saying;"he would like that the government assist him to take care of his children as he isn't able to at the moment."
He claimed that their mother is irresponsible and doesn't attend to the needs of the children while he is at work which makes his mind not be at res
He pleaded with the government in his letter that they should please add the boys to motherless children as it pains him to see the children suffer.
The boys have since been handed over to the police and their father has been reached out to as the eldest son provided the police with his phone number through which they reached him.