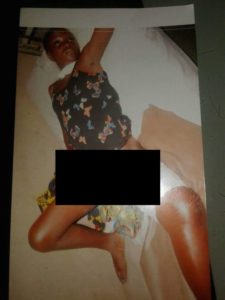 A heartless man identified as 'Osama' has brutally stabbed a 16-year-old girl, Alero Eyesan on her thigh for refusing his love advances. It was gathered that the sad incident happened in Delta state on the 31st of December, 2017.
The suspect was said to have laid an ambush for her as he attacked and stabbed the innocent girl.
She was immediately rushed to central hospital where the doctors prescribed things to be bought for her treatment which they couldn't afford.
The doctor treating the girl said she has a 50:50 chance of survival because the wound has been infected and has reached her private part and if not attended to urgently she night not make it.
The girl is said to be in tears because of the unbearable pain, while the guy who stabbed her is currently on the run