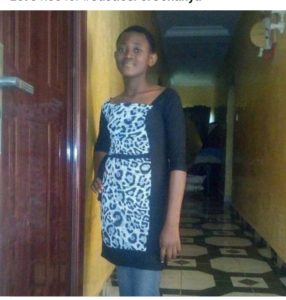 Meet the girl who dared to dream.
The Exceptionally brilliant girl who held on to her educational dreams. She believed staying with relatives would help her realise it since her immediate family couldn't muster the funds to see her through school!
That dream of being an educated, responsible young woman and leader of tomorrow was not to be. Her aunt's husband and son cut short that dream as they started raping her from age 9.
She was afflicted with VVF and last weekend, she succumbed to the cold hands of death because her body was too weak and sore to carry on with that abuse.
Did you know that 13year old Elizabeth Ochanya (Queen) had secured admission to Federal Govt Girls' College, Gboko, Benue State, one of the best all girls schools in Nigeria?
While the rage of her death continues, the chief culprit, a lecturer at Benue Poly, is sipping tea at a cozy place in Abuja, having walked majestically away from prison, clearly above the law. He is calling up Benue youngsters in Abuja who are warming up for a protest, offering them N1. 5Million to back down, backed by a Catholic priest, himself being a knight of St. Mulumba (KSM).
In Nigeria some persons are verily above the law and we must make Nigeria work again.
Let's rise for #JusticeForOchanya