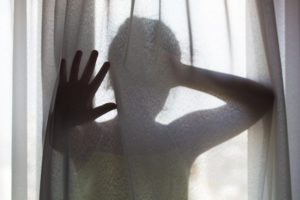 Mother of three, Mrs Ijeoma Eze-Ezirike has reportedly bathed her housemaid, a 10-year-old orphan, Onyinye Nwaogu, with hot pepper after beating her because she went with her madam's children to the house of the children's class teacher.
According to eyewitness reports, the incidence took place at No. 1 Timileyin Avenue, Jikwoyi, Phase 1 Extension, a suburb in Abuja, on Thursday afternoon after Mrs Eze-Ezirike, who sells provisions at Karu market, returned home and found out that her housemaid had taken her children out to watch television at the teacher's house behind their compound.
According to the teacher, Miss Dorcas, Onyinye had brought the kids to watch television in her house and left, but she was surprised when her madam brought her back and started beating her with planks, hit her head on a concrete wall and the girl passed out.
"Concerned neighbours who have gathered because of the girl's cry pleaded Eze-Ezirike not to kill the little girl and told her the consequence of what she was doing to the child. We revived the little girl and her madam took her home but after a while, we heard Onyinye crying and shouting for mercy from a distance; we had to rush to the house," Dorcas recounted.
According to a neighbour who pleaded anonymity, he witnessed the violence meted out by Mrs Eze-Ezirike as she continued beating the girl with planks under the rain.
"We had to rush out to rescue the girl from her grip and warned her to leave the child alone and she took the child home in disguise of going to treat her wounds and suddenly, from a distance we heard Onyinye screaming for mercy. On getting to Eze-Ezerike's flat, she had stripped the little girl naked and bathed her with hot pepper from head to toe, including her eyes and vagina."
Another neighbour, Mrs Rita Williams, who leaves close to Mrs Eze-Ezerike, said they were always woken up every morning from the cry of Onyinye, who wakes up as early as 5.30am most times in the cold and is the last to go to bed from house chores.
She said she had on several occasions pleaded with Mrs Eze-Ezerike to return Onyinye back to where she brought her from instead of killing her with beatings every day.
She said that on one occasion, Onyinye almost went blind after her madam had beaten her to a pulp and when she approached her to know what happened, it almost resulted into a fight between her and onyinye's madam.
When Nigerian Pilot visited Jikwoyi Police Station, the IPO in charge, Mrs Ana, confirmed the incident, saying that onyinye suffered injuries from the beating and pepper bath she received from her madam.
She said onyinye was taken to the hospital for treatment because of the bruises she sustained and the pepper her madam put in her vagina, but after much pleading by Mrs Eze-Ezerike and her husband, the girl was released to the couple.