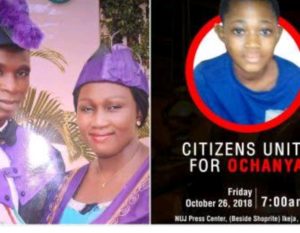 The National Agency for the Prohibition of Trafficking in Persons (NAPTIP) has arrested Felicia Ogbuja, the aunt of Elizabeth Ochanya, a teenage girl that recently died after years of sexual abuse.
Ochanya died on October 18, 2018 after years of sexual abuse allegedly perpetrated by Felicia's husband, Andrew Ogbuja, and their son, Victor, a student of the Federal University of Agriculture, Makurdi. The 13-year-old died of vesicovaginal fistula (VVF) and other health complications at the Benue State University Teaching Hospital, Makurdi.
According to a statement by NAPTIP, Felicia was arrested on Friday, November 23, because she's suspected of having knowledge of the repeated rape of the late teenager without reporting to the appropriate authorities.
Felicia had been evading arrest for the past four weeks by escaping first to Lagos and then Abuja before returning to Makurdi where she was arrested.
NAPTIP's Director-General, Julie Okah-Donli, said Felicia will be investigated to ascertain her level of connivance before she's charged to court.
She said, "I am still pained by the tragic death of the late Elizabeth Ochanya Ogbaje and the only thing we can do to ensure that her groaning spirit rests in peace is to ensure that full dose of justice is served on all those that are directly or indirectly involved in the unwholesome act that led to her death.
"It is important to establish the status of people around the late girl who had knowledge of her ordeal and yet refused to report to the Law enforcement Agencies who would have rescued her.
"We cannot continue to fold our hands while our children are been sexually molested and assaulted by people that ought to have protected them. This case at hand will be a case that will be monitored and all those linked in one way or the other shall all be made to face the full weight of the law."
Ochanya had left her family to start living with the Ogbujas in Ugbokolo town in 2013 because there was no school in her village.
Before her death, Ochanya narrated how Victor first raped her when she was eight, a crime that was eventually brought to Andrew's attention who also started sexually abusing her afterwards. She was molested, defiled, drugged and abused for a period of five years.
Andrew has been remanded in custody till the charges brought against him are heard in court on November 29. Victor remains at large.