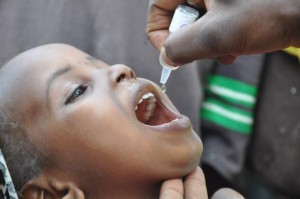 Nigeria will wait till 2017 before it is certified polio-free by the World Health Organisation, WHO, it was revealed yesterday.
The country must, however, sustain its interruption of the wild type of the virus, Type One, it recorded on July 24, 2014, in order to attain the status.
Nigeria is currently one of the three remaining endemic countries with the disease globally, others being Pakistan and Afghanistan.
International organisations, including Nigerian health experts in Abuja yesterday at the 29th meeting of the Expert Review Committee and Routine Immunisation set up by the Federal Government, said the country must ensure it does not record any case of wild virus between now and 2017 before it can obtain the status. They also said that interruption of the virus is only a step towards certification by the WHO.
Addressing journalists yesterday after the meeting, United Nations Children Fund, UNICEF Country Representative in Nigeria, Dr Suomi Sakai, said while lauding efforts of stakeholders in the country: "We still have three more years to go to ensure certification. If within these years we don't suffer any more cases of polio, then we are on a good track. But, we are not there yet. I think we need to continue motivating all community workers, traditional leaders, and politicians to continue their efforts because the goal is possible."
Similarly, Chairman of ERC, Prof Oyewale Tomori, said there was misconception over interruption of the virus and certifying the nation free of the virus.
His words: "The recent information, which has been misinterpreted by the generality of Nigerians that Nigeria would be declared free of polio is not correct. According to WHO regulation, we need to be totally free of polio for three years before we are declared polio-free. I think that is what we want to achieve. Polio transmission is just a step in the way. Polio eradication is what we are looking for. That will require us to sustain no polio for the next three years."
He also warned on the country's handling of the programme: "The issue that we are having what we call compatible polio cases, which means our surveillance has not gone very well, we missed what could have been polio. We need to improve on our surveillance to ensure such compatible cases do not occur."
Executive Director, NPHCDA, Dr Ado Mohammad, said the country made unprecedented progress in its fight against the disease last year, which he noted was "widely commended globally by all stakeholders by reducing polio virus to just few cases in 2014."