Many children in a school in Peru have suffered seizures and described visions of a man in black trying to kill them in what locals say was a mass case of demonic possession. Up to 80 students were seen convulsing, screeming and fainting at Elsa Perea Flores school in Northern Peru's Tarapolo. The school was reportedly built on a mafia graveyard. Children between 11 and 14 are reportedly fainting and having strong muscular convulsions.

A concerned mother whose daughter has experienced some of the symptons said: "she fainted in school. They didn't say anything at the hospital. She keeps on spitting froth from her mouth.
Describing the experience, a pupil not named narrated: "Its disturbing for me to think about it. Its as if someone kept on chasing me from behind. It was a tall man all dressed in black and with a big beard and it felt like he was trying to strangle me".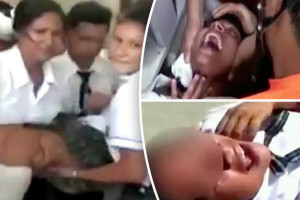 Another anonymous girl, aged 13 said: "several children from different classrooms fainted at the same time. I got nauseous and started vomiting. I heard voices. A man in black chased me and wanted to touch me".