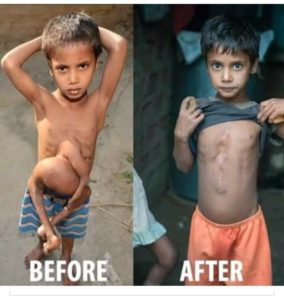 An Indian boy with eight limbs whose veneration as a god propelled him in to the public spotlight has been operated on to give him the chance of a normal life, his father said Wednesday.
Deepak Paswan, 7, was born in one of the least developed parts of India with a parasitic twin conjoined to his abdomen, which meant he had four legs and four arms but one head.
Hindu pilgrims from the area near his village in the northern state of Bihar used to visit the household to worship him as an incarnation of the god Vishnu, who is often depicted with more than four limbs.
His family, uncomfortable with the attention, appealed publicly for help in March to secure an operation to have the unwanted limbs removed.
Their wish was granted on May 30 in a hospital in the southern city of Bangalore which bore the cost of the complicated and dangerous procedure.
"We always wanted surgery to remove the parasitic twin to get rid of him being treated as a religious object by people," his father, Viresh Paswan, said. "My dream has come true, now we will celebrate it after returning to my village.
The father, a low-caste construction worker in his mid-30s, called the four-hour operation a "miracle" and said his son would now be able to go to school "like any boy of his age.