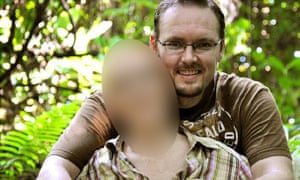 A pastor who raped a girl as she lay blindfolded on a bed has been jailed for more than 10 years in what a Perth judge has described as depraved and degrading offending.
Dawid Volmer, 41, had advertised sexual massages on Craigslist, initially meeting the girl and her father, who cannot be named, when she was 12, although her father said she was 16.
Despite "knowing in his heart" that the girl was underage, Volmer met the pair three times at a city hotel and at the father's home where he molested and raped the girl while the father sat in the same room.
The girl cried after the first sexual incident and was chastised by her father. A year passed before the second encounter, the West Australian district court heard on Thursday.
Volmer eventually ended the arrangement, telling the father they should turn themselves in, but the father refused.
Volmer pleaded guilty to 12 offences including indecent dealing with a child, sexual penetration of a child and stupefying the girl with amyl nitrite vapour.
Judge Mark Herron said it was sinister for Volmer to give the girl the inhalant, which was often used to enhance sexual pleasure, because it made her feel light-headed and more compliant.
Volmer had run the prison fellowship program, a religious outreach scheme for inmates, and was involved in a community church before he was charged.
Defence counsel Nick Scerri said his client accepted his actions had tainted his good work. Scerri said Volmer had tried to say sorry but his words felt "empty and powerless".
"No matter what he says, sorry will not undo the damage that he's caused," Scerri said. "He wants to say it over and over again from the rooftops."
Scerri said Volmer hoped the community would forgive him one day.
Herron said it must have been a "frightening and distressing" experience for the vulnerable and defenceless girl, who was subjected to "degrading and humiliating" acts for Volmer's sexual gratification.
But he accepted Volmer pleaded guilty early, cooperated with police, was remorseful and had started rehabilitation.
Herron also noted Volmer's family had faced vigilante vandalism at home and threatening phone calls.
Volmer was sentenced to 10.5 years behind bars and will be eligible for parole after serving 8.5 years.