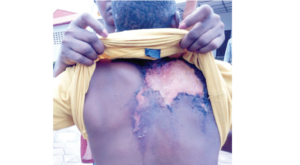 A 15 year-old housemaid, Chinyere Igwe, is in excruciating pains after her policewoman mistress, Mrs. Okochi Joy Ugo, poured hot melon soup and boiling water on her body at Mile 50, Abakaliki, Ebonyi State.
Mrs. Okochi, who delivered a set of twins two weeks ago through a cesarean section, bathed Chinyere Igwe with hot soup and poured hot water on her for not making the soup the way she wanted it.
Okochi's husband was also reported to have beaten up the housemaid immediately he returned from work when his wife reported Chinyere's disobedience, not minding that she suffered a first degree burn on her upper back. However, the man didn't know that the wife had punished the maid.
Narrating her ordeal to Sunday Telegraph, Chinyere told our reporter that she was adopted by her madam as a housemaid. She noted that her mother gave her out to the Okochi's family because of her poor financial status.
"We are from the same village," she said, adding that she had always been maltreated since she joined the family over two years ago.
"I am from Bende Local Government Area of Abia State, the same village with my madam. My father is late, while my mother is a poor farmer in our village. On that fateful day, my madam asked her own mother, who was staying with us in the house, to join me in cooking melon soup. But disagreement came up when my madam's mum insisted that I should cook the soup alone.
"I agreed to this as an obedient child. But problem came when my madam came to the kitchen and wanted to alter the method I use regularly to cook melon soup. As for me, I believe the soup will be more delicious if the grinded melon is mixed with water in a plate before pouring it into the pot. That was my usual method of cooking the soup. But this time around, my madam objected to this, insisting that, I should fry the melon instead, before pouring it into the pot, but I refused, as that wasn't my method of cooking egusi soup. In anger, my madam came to the kitchen, carried the hot pot of soup and threw it at me. I dodged it but it landed on my back.
"When she threw the hot soup at me, a small portion fell on her leg and she rushed to the bathroom to pour cold water on it to avoid any burn. As if the punishment I received wasn't enough, madam picked up an iron to hit me and ordered me to 'stool down' (place one of my fingers on the ground and raise one leg up at the back). I refused to do this as my burnt upper back was hurting me so badly. She shouted at me and asked who the hell I was to oppose her orders. I begged for mercy. She didn't listen to my pleas, instead of pardoning me, she rushed into her bedroom and brought out her official teargas, threatening to open it in my nose at close range and I started crying and begging for forgiveness. She dropped the teargas and rushed to the kitchen again to get hot water at boiling point on the stove. She poured this on me. She ordered me to remove the cloth on my body. She earlier gave me the cloth as a gift. I removed it quickly to avoid further punishments."
Chinyere added: "When madam's husband came back from work, he also beat me up, slapping and kicking me. He did not know that his wife poured hot soup and boiling water on me earlier because it was in the night and there was no electricity. Later, he saw my back with serious injuries and asked who did that to me. I told him it was madam. He asked me what happened and I told him that it was due to disagreement in the cooking method of egusi soup. My madam's husband's phone rang and he begged that he had to rush out to attend to something important apologising to me before leaving. He regretted beating me as he confessed that he didn't know I had sustained such a big injury on my back. When madam's husband left the house, she still continued punishing me. It was God that saved me from her hands that night."
In a chat with policewoman Okochi, she regretted inflicting such injuries on her housemaid.
"I didn't know she was badly injured. This girl has been a problem to me ever since she came to my house two years ago, and I have made several efforts to send her back to her mother in the village but she wouldn't agree to go," she said.
Bad enough, Chinyere was not taken to the hospital for medical treatment by her policewoman boss, and her condition has worsened as the injury on her upper back is spreading and fast decaying. This prompted officials of the state's Ministry of Women Affairs and Social Development to storm Mrs. Okochi Joy Ugo's house to rescue Chinyere.
Speaking to reporters after rescuing the 15 year old housemaid, the Director, Child Welfare in the Ministry, Godwin Igwe, expressed dismay that a policewoman who should protect lives and properties of the people should be the one maltreating a teenager put in her care in such dehumanizing manner.
"The treatment meted on this child is the height of man's inhumanity to fellow man because the young girl sustained serious burn and she was deliberately not taken to the hospital for treatment. The policewoman has been using honey as treatment instead of taking the injured girl to the hospital for proper treatment. This is a mother that has her own children," he said.
Meanwhile, Federation of International Women Lawyers (FIDA) has waded into the matter. Speaking to our correspondent, the state Chairman of FIDA, Olivia Okpalaeke, said the organisation will ensure that the culprit is brought to book.
When contacted, the state Police Public Relations Officer, Dr. Jude Madu, said the matter has not been reported to the command. The victim, Chinyere Igwe, said her mistress is a policewoman attached to Ebonyi State Police Command.