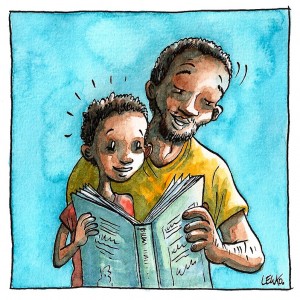 BY IFE ADEDAPO
One of the essential duties of parents to their children is to provide for their immediate needs. Professionals say these needs include basics for survival including food, shelter, and clothing; they may also include other nice things like toys. In addition to providing for their children's immediate needs, parents need to provide for their children's future needs by teaching them to be financially independent adults.
Experts say the knowledge of the importance of hard work, the monetary compensation that accompanies it and the judicious use of the money earned should be passed on to your children.
This, they say will be the leverage on which they plan their future.
Experts recommend several ways parents can teach their children about money and foster positive attitudes and habits.
They suggest everyday opportunities such as shopping, paying bills and withdrawing cash from the Automated Teller Machine to teach their children. This teaching can start as early as age three or once the child knows the value of money.
Help your child prioritise
Children usually have a list of unending items they wish to have and this changes from time to time.
The Managing Director of Bandel Enterprise Limited, Mrs. Joke Olawale advises that for older children, they can be encouraged to compile a list of their needs.
"Give them an amount of money you can afford to spend on their needs and teach them to prioritize. Help them categorise their needs into long-term and short-term items and advise them on the ones to spend their money on," she says.
According to her, this is the foundation of a financial plan and this type of thinking will serve them well in the future.
Make them work for money
Olawale says, "When your kids are really young, they probably won't have an allowance or chores. However, as they grow older and they are able to perform small chores around the house, they can be taught how to execute little tasks they won't ordinarily do for a stipend.
"One way of making your child learn the basics of money is to give them allowance for a specific period of time and observe how they will spend the money. Some people are averse to giving allowances, but it is an effective way to teach kids about money."
According to foreverfamilies.byu.edu, the following methods can also help parents raise financially responsible children.
Discuss money issues with your children
Experts say to build the financial knowledge of your children, talk about how you earn money and how you plan to spend it. When you take your child to the grocery store, explain what prompts your purchasing decisions. Explain why the budget for a particular item is more than the other.
It is common for children to request for things they desire, often without a good reason. Therefore, let them know they cannot have everything, but discuss how important it is for them to wait for what they want, experts note.
Set good examples for them
Your children will develop their financial attitudes and behaviour by what they see you do, not what they hear you say. Experts say because they are very observant and will learn many of their money concepts by watching you and copying your behaviour; actively encourage good values. Teach your children the value of work and teach them responsibility. Teach them delayed gratification by letting them save towards a goal of a new bike or video game.
Financial experts say many successful money milestones are achieved by goal-setting. Encourage your children to set savings goals and work towards them. Ensure that the item is not too cheap so that they won't be able to afford it for months. This will teach them good savings habit. Let them know that even you have things you want and cannot have.
Have them manage money now
To manage money adequately, experts say give your child an allowance, whether or not it is tied to chores, and give him or her some general guidelines on how to spend and save it. The emphasis is on general because your child should have enough freedom to make his or her own decisions and mistakes. Encourage young children to bring their allowance with them whenever you are shopping.
This, they say will help them make decisions on whether the item they desire so much is worth spending their allowance on. If you do not want to give your child an allowance, allow him or her to manage money by letting him or her pay the grocer or the parking attendant.
Teach them to give
Financial advisors say you could help your child experience the good feelings of sharing his or her income with others. Encourage your child to regularly contribute a portion of his or her income to a charity or help your child buy treats for the family. Adopt a family through your church during the holidays or give your child the responsibility of buying or making birthday gifts for friends. Also, teach your child to contribute in ways other than giving money by giving time, energy and skills to help someone else.
– The PUNCH