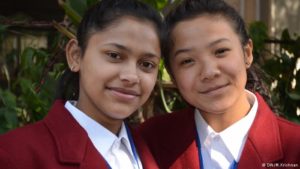 Two Indian school girls have received national bravery awards for helping police uncover and arrest a group of cross-border human traffickers.
Millions of women and children are victims of sex trafficking in India. The International Labor Organization claims the global human trafficking industry generates around $150 billion annually and India is considered to be one of the hubs for human trafficking-related crimes in Asia. According to government data, every eighth minute, a child goes missing or is trafficked in India.
So it came as a surprise when two schoolgirls took it upon themselves and helped the police smash a cross-border human trafficking racket, leading to the arrest of suspects in the cases of missing girls from both India and Nepal.
In recognition of their achievement, 18-year-old Tejasweeta Pradhan and 17-year-old Shivani Gond (main picture), from the picturesque town of Darjeeling in West Bengal, have now been conferred the prestigious Geeta Chopra Award, an annual award that falls under the National Bravery Awards category.
As part of their courageous mission, both Pradhan and Gond befriended the traffickers on Facebook in May 2016 and spent days communicating with them by telephone, convincing the traffickers that they were willing to run away from home before leading them to the police.
In a DW interview, the two girls said they were motivated to take part in the mission in the belief that if they succeeded, they would save thousands of girls in one shot.
Source: DW