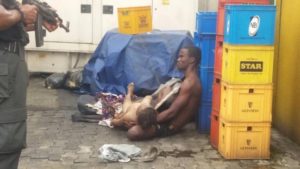 Luck has ran out on a desperate UNIPORT undergraduate who wanted to get rich fast after he was nabbed with the body of a little girl he murdered for money rituals.
A 200-level student of the the Faculty of Science, University of Portharcout, Rivers State, identified as Ifeanyi Dike, has been arrested for allegedly killing a 7-year-old girl named Victory Chikamso.
The undergraduate who in a bid to make quick money had allegedly killed the teenager for ritual purposes. Dike from Imo State had invited Chikamso into his room, killed and collected the part he needed, while the girl's parents were looking for her, yesterday.
However, Luck ran out on him when he was about throwing the girl's corpse away. He was confronted by sanitation officers at the refuse dump he went to throw the body away. After getting hold of him, they searched him only to discover a dead body butchered with some body parts missing. That was when they raised alarm and behold, the missing body was discovered to be that of little Chikamso. He was apprehended and handed over to the policemen from Okporo police station, Port Harcourt.