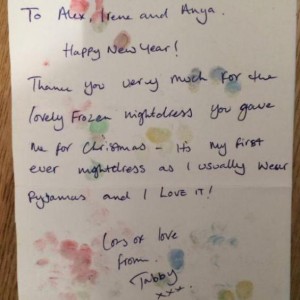 A woman who was accidentally sent thank you notes from a mystery child is trying to track down the intended recipients.
For the last three years Jessica Wren, 46, from Camden has been mistakenly sent handwritten thank you letters from a young child called Tabby in the post.
The decorated notes thank the intended recipients – Alex, Irene and Anya – for their kind Christmas present.
Mrs Wren told the Standard: "This is the third time we have got one each Christmas.
"The other two I have thrown away but this time she put a lot of effort into it and I thought it was really sad the person didn't receive it."
The note – which looks to have been written by an adult on child Tabby's behalf – reads: "Thank you very much for the lovely Frozen nightdress you gave me for Christmas – it's my first ever nightdress as I usually wear pyjamas and I love it!
"Lots of love from Tabby xxx."