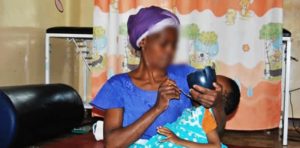 A Kenyan High Court has order a women's hospital to pay SH54.7 million (N196.3Million) to a woman whose child ended up with cerebral palsy due to negligence during birth.
The mother told the court that she visited the hospital, where she attended antenatal clinics, on May 27, 2007 and was immediately checked into the labour ward, reports Kenyan Daily Nation.
She claimed that she was first induced into labour without success and that due to lack of proper attention, she suffered severe physical, mental and psychological anguish.
She was rushed into the theatre two days later for a Caesarean section, but the child developed breathing problems and had to be taken to the Aga Khan University Hospital, where he was first admitted to the High Dependency Unit and later to the Intensive Care Unit for several days.
When he was discharged, he was referred to the Kenyatta National Hospital, where he was diagnosed with cerebral palsy, which had rendered him unable to breastfeed.
As the boy grew, he could not sit on his own, had to be fed on mashed foods because he could not chew, had no speech or head control and had to be under round-the-clock care.
He was later consigned to using a wheelchair and was enrolled in a special school, where the fees was Sh100,000 (N35,8876) per term.
The court heard that the child required at least Sh1,188,000 in a year for his upkeep.
"It should be noted that the parents of this child would not have found themselves in this situation had prudent and professional attendance been extended to them," Justice Msagha Mbogoli ruled.
He added: "I, therefore, enter judgment against the defendants to the sum of Sh54.7m."
The judge broke down the award, saying that Sh18.7 million is for the cost of speech, occupation and physiotherapy, Sh6 million for education, Sh2.8 million for personal hygiene, Sh3.3 million for medical consultations, Sh.9.6 million for medication, Sh7.2 million for a caregiver, Sh3.6 million for adaptive equipment and Sh631,000 for special damages.
He also awarded the mother Sh800,000 as compensation for her pain as well as Sh8 million for the minor.
The judge said the monies could be invested for the benefit of the child.