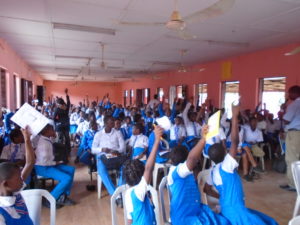 The CRACO "END VIOLENCE CAMPAIGN" continues, this time it held on the 22nd march, 2018 at St Joseph's Schools, Idimangoro, Agege, and we were well received by an enthusiastic school management, staff and students.
The seminar began with an introduction by the first speaker, Miss Ndidi Chukwu, who spoke briefly on three major areas of this campaign which are: CHILD RIGHTS, RESPONSIBILITIES AND THE PREVALENCE OF VIOLENCE AGAINST CHILDREN.
Thereafter, the key speaker and Executive Director of CRACO, Barr. Igwe, commenced the talk on what constitutes children's rights, according to him, "By the mere fact that you are a human being, you are entitled to some God given rights that no one can take away from you".
The students were aware of some of these rights which includes, right to life, education, freedom of expression and freedom of religion. Barr, Igwe informed them on more rights like the right to be alive, survive and develop, right to privacy and right to be protected from harm, mistreatment,abuse, neglect and kidnapping amongst others.
He stated that these rights also come with responsibilities, that is, the students have the responsibility to respect their teachers, parents and elders; be good citizens, being attentive in class and not cause distraction to other students.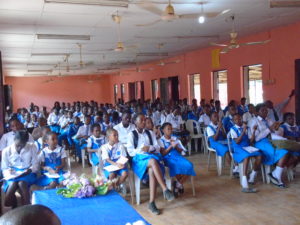 Furthermore, he spoke on what constitutes violence against children and what the students can do or contribute towards its eradication. "In disciplining a child one must be careful not to go overboard so it doesn't turn into torture, we've encountered several cases of children getting blind or disfigured permanently due to excessive caning". Even at that the students were advised to be well behaved and responsible so as not to provoke teachers into such cruel acts.
According to him, Emotional abuse can have severe harmful effect even more than physical because you cannot see the degree of psychological damage a child is going through unlike physical abuse that you can see. He encouraged the school children not to allow negative words wear them down, rather they should stay strong and focused looking towards a bright future awaiting them. He cited an example of the popular actors- nicknamed Aki and Paw Paw who are challenged with their physical stature but that didn't stop them from achieving their dream, they excelled in school and today have become wealthy famous actors in Nigeria and beyond.
Going further, he continued that sexual abuse is another terrible crime against children and what makes it worse is that children don't speak up because the perpetrators threaten them. He counseled them on the very important need to speak up, report to their parents / trusted adults, to CRACO or to the Nigerian police.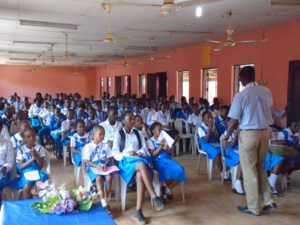 He also spoke about online violence. He advised the children to be careful when they go online as many paedophiles are online looking for children to violate, and they usually use the profile photo of a child in order to deceive children. He advised them never to agree to meet in person any one with whom they chat online, and if they must meet such a person, they should go with a trusted adult.
It was another interesting seminar and the children asked questions which includes:
 If a child is being abused sexually and get used to it and the child cannot do without sex or now has sexual urge, what should the child do?
 Is it bad to kiss your boyfriend/girlfriend?
 If a parent curse and beat their child, what can the child do?
 If someone tries to take your life and you stop the person by taking the person's life, are you going to be punished?
 What if you have friends who look down on you, what should you do?
 If you report your parents, does it mean you will arrest them?
 How can online abuse affect people?
 When you are emotionally abused, what can you do about it?
 When it is your parents who abuse you, what can you do?
 If you were raped and you clean the evidence, what can you do?
 How can people die through online violence?
 How do people feel when they are harassed through sexual abuse?
 What is online abuse?
 Is it possible for a pregnant HIV positive woman to give birth to a HIV negative baby?
 How can one die out of emotional abuse?
 What is the effect of sex videos?
 What will you do in a case where there is a gay man who even killed a boy during his gay activities?
 What can be done so that when a sexual abuse is reported, it doesn't spread and become talk of the town?
 A friend of mine complained that whenever she is having her bath, one of her neighbours spy on her, what can she do?
 Is it possible for someone aged 6-12 to feel horny?
 Whenever I am having my bath, my neighbour spies on me, I have reported to my parents but they don't believe me, they say I'm childish, what do I do?
 A friend of mine attends an all-girls school and all her classmates are lesbians, what should she do?
 How does rape affect a child negatively?
 Can someone die by sexual abuse?
These are another set of questions that exposes the disturbing situations, children live and grow in, thankfully through this medium, these questions are addressed and our children can get relevant information, help and support so they can look forward to a better life.
At the end of the session pamphlets were given to the children with further information on child abuse and places they can seek for help openly or anonymously.