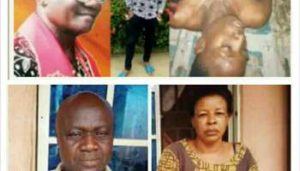 A police sergeant, Oludele Olosunde, reportedly beat his son, Ibukun to death having accused the latter of stealing a sum of N2000.
The tragedy which occurred on Tuesday, January 2, 2018, at a location described as Rasak Okunola Avenue, Ijagemo, Ijegun, Lagos, led to the arrest of the suspect who was attached to the Kirikiri Police Division the following day.
It revealed that the deceased, 17, was buried by his father at the Apapa Cemetery after he was confirmed dead at a hospital.
The deceased was expected to resume at the Olabisi Onabanjo University on Monday, January 8, 2018, having recently secured an admission.
Olusunde was arrested following a tip-off by a man living in the community where the deceased was battered by his father. The latter had reportedly tried to cover up the death.
"The boy was the first of four children. His mother was not around when it happened. I think she travelled. The father said he was looking for N2,000 and said the boy took the money, which he denied.
"That evening, when the man returned from work, he saw the boy outside and grabbed him by the hand. He took him inside the house and asked him to say where the money was. He started flogging the boy, who cried for help. The man flogged him until he went into a coma.
"After he was confirmed dead, the policeman took the son away and buried him. He wanted people to keep quiet about it. A resident, however, called the police and he was arrested."
The incident was confirmed by SP Chike Oti, a Lagos State Police Public Relations Officer (PPRO).
The spokesperson who confirmed that an investigation has been launched into the matter mentioned that the deceased died after hitting his head on a septic tank.
"On January 3, 2018, at about 4pm, information was received that a man killed his son and took away the corpse. We learnt that he returned to his house on Rasaq Okunola Street, Ijagemo, and locked himself inside. Detectives raced to the scene and arrested the suspect.
"Upon interrogation, he said his son, Ibukun, stole his N2,000 and when he questioned him, he ran away. He said his son fell on a septic tank slab in the process and injured his head, but later died in a hospital while receiving treatment.
"He said he took his corpse to the Apapa cemetery for burial. Investigation is ongoing into the case," the police rep disclosed.
JOIN OUR CAMPAIGN TO END VIOLENCE AGAINST CHILDREN
Nigeria has seen various cases of violence against children by their parents or guardians.
In a bid correct a bad behaviour, some adults have applied an extreme disciplinary tactic which has often led to the death of those being corrected. UNICEF reports that every five minutes, a child dies as a result of violence. The rate at which parents and caregivers perpetrate violence against their children and wards is quite alarming. To protect the precious lives of children, CRACO is initiating a national-wide campaign to End violence against children. Lets join hands together to make this project a success for the sake of the children. Be a volunteer. Call 08028468268; or send your interest to: info@cracong.org