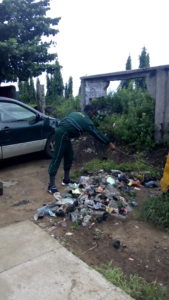 Forty Students from Chrisland High School on the 24th day of June, 2017 participated in community service learning/activity in Child Rights Awareness Creation Organisation (CRACO). The exercise is to equip young people with humanitarian spirit so as to be better citizens who care for others. According to the President/Executive Director of CRACO, Barr. Joseph Igwe, "to make a better tomorrow, we must concentrate on the upbringing of today's children, and the best way to do so is by impacting in them the values of selfless service to humanity". He noted that the Nigerian society is the way it is today because of the kind of values impacted on children of yesteryears.The only way to kill corruption, he said, is by raising children who appreciates the importance of honesty and who knows that service to humanity, not service to self, is the essence of life. Barr. Evans Ufeli admonished the students to believe they are truly the future, and not to be discouraged by the fact that our leaders have over the years disappointed the youths who they have continously deceived by telling them they are the future leaders but the same leaders will refuse to relinguish the leadership position to enable the youths take over. He urged the students not to expect our present day leaders to give them the future, but to know that the future belongs to them and work hard to take what belong to them. He told them that community service and love for humanity is the gateway to a successful and rewarding future.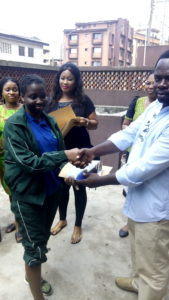 The management of Chrisland High Schiol by a letter dated 24th June, 2017, appreciated and thanked CRACO for giving the school opportunity to render service to humanity through community service exercise.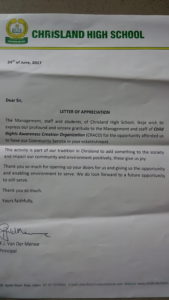 All the students were presented attestation letters and copies of a book published by CRACO titled "IN PURSUIT OF TRUE SUCCESS" which will enable them better appreciate and imbibe the essence and importance of selfless service and humanitarian works.