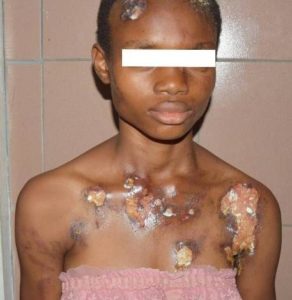 The police in Lagos have arrested a man, Chigozie Ezeofor for sexually assaulting his teenaged domestic help (names withheld).
The suspect's spouse, Mrs. Isioma was also arrested for allegedly pouring hot water on the victim.
They were arrested Wednesday at their 26, Aunty Toyin Street, Kodeibo Estate, Ijegun Road, Isheri Oshun residence.
It was gathered that the woman had poured the hot water on the victim and refused to treat her injuries, which angered other residents.
According to the police, the man penetrated the teenager through the anus on several occasions.
Command spokesman, Chike Oti, a Superintendent of Police (SP) one of the neighbours, who disliked the treatments meted on the girl, informed the police and the couple was rounded up.
Oti said the teenager suffered terribly at the couple's hands.
He said: "Encouraged by the decisive manner in which cases of sexual exploitation and abuse are resolved in the command, many have found their voices against their abusers.
"The command recorded another case of abuse perpetrated against Miss Blessing Joseph by her employers Mr/Mrs Chigozie Ezeofor.
"According to Miss Blessing Joseph, she has suffered terribly in the hands of the aforementioned couple who delight in dehumanising her regularly.
"She further revealed to the police that her "madam" Isioma Ezeofor, beats her up at the slightest provocation while her husband Chigozie Ezeofor, sneaks up to her whenever his wife was away and had made several painful attempts to penetrate her anus.
"The exploitation came to a halt when Mrs. Isioma Ezeofor's temper got the better part of her and she emptied a kettle of hot water on the poor girl, scalding her skin in the process.
"A good Nigerian, who wished to remain anonymous, called the police to the matter. Both husband and wife are being interrogated at the Gender Section of the Command. The couple would be charged to court at the end of investigation."