"THERE SHOULD BE A LIMIT WHEN DISCIPLINING A CHILD, IF NOT YOU CROSS THE LINE BETWEEN DISCIPLINE AND TORTURE"
Today, CRACO held a seminar for the school children of CAYLEY College, Ikeja. The students were sensitized about what viol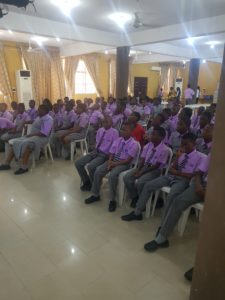 ence against children means and the effects it will have on them.
Violence can affect a child for the rest of their life, which can damage a child's physical, psychological and mental health.
Children who have experienced violence are also more likely to continue the circle of violence, passing on patterns of violence to their peers, own children or to future generations.
Because children are tender and cannot withstand the degree of pain an adult can take, something as light as a slap on a child can lead to death.
The students were educated on their rights to freedom from violence, and the various forms of violence experienced by children.They were counseled not to keep quiet when faced with violence, but to always speak up and report to a trusted elder whenever they encounter such or contact CRACO because the law is on their side and we would take up the matter on their behalf. They were also informed that acts of violence, including sexual violence can come from anybody, including their parents. and in any case, they should not keep silent, because keeping silent will encourage the perpetrator to continue, and their future will be destroyed as a result.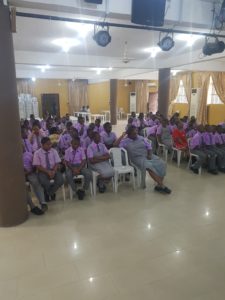 CRACO advised the students that whether it is their teacher, parents, family member or stranger who commits acts of violence against them, they should record the details and report to CRACO and we would take the necessary action to ensure such acts of violence is brought to an end for their best interest.
It was another stimulating, thought provoking and interactive session where the students passionately asked questions bordering them. The reaction of the students when sexual violence was mentioned, goes to show that so many things are happening in our society, and most children are dying in silence, not knowing who to confide in. We discover that the childhood of our children is fast evaporating, and we need to act fast to restore it. Some of the questions we deem fit to publish include:
• How does my father abuse me?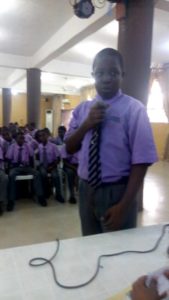 • Where can orphans passing through abuse go to for help?
• What do I do when someone continuously violates my right?
• If my teacher continuously abuses me, what can I do?
• Is it right for a girl to sit on the laps of a boy, when there is no seat?
• If someone blackmails me, is it violence?
We made sure we attended to their questions respectively but due to time constraint, we could not attend to all their questions, and to show how answers to those questions are important to them, at the close of the seminar, some of them rushed to our table to ensure they get answers to their questions, and we made sure we attended to each of them personally.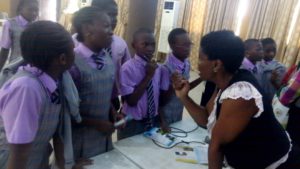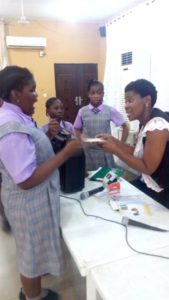 At the end of the question/ answer session, flyers which contained information on child violence and where to go to for help were handed out to the school children.
Ending violence against children is not only important for each child's rights, but also for healthy communities and societies.
#EndViolenceAgainstChildren.