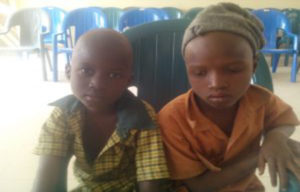 Two unidentified fathers, purportedly from Jigawa State, have dumped their children at a Quranic School in Bauchi State and flee to an unknown destination.
The children identified themselves as: Nura Shehu and Suede Suleiman, when they were found at about 10pm in the night along Maiduguri by-pass in Bauchi, sleeping near a culvert.
Alhaji Dandada Ahmadu, Ward Head of Gwallaga Quarters in Bauchi, while explaining the plight of the children, said they were brought to his house by two youths, who found them sleeping outside in the night.
Ahmadu, who brought the children to the Bauchi State Council secretariat of the Nigeria Union of Journalists, (NUJ), told newsmen on Thursday that, when he interrogated the children, ages 5 and 6 years, they told him they were going back to their parents at Birnin Kudu in Jigawa State.
€œI took the children in, gave them food and the next day, I took them to the District Head of Bauchi, who directed me to take them to social welfare office to investigate who are their parents and how to re-unite them with their parents.
The ward head who could not hid his anger said that it was disheartening that parents could leave vulnerable children like Nura and Suede, who cannot even bath themselves very well.
His words: €œit is unfair for a father to come to over 100 kilometers to abandon his child. There are so many schools around where parents can take their child to study whether western or Quaranic education and watch their kids. The kids were afraid and even attempted to run away from my house.
€œThis is a sad development and I am using this opportunity to call on parents to put their children in school near them to enable them care for them and see them grow up to become good citizens but to abandon these kids is wicked, they have nothing on them and they can fall into danger of being kidnapped or use for rituals.
Speaking with Journalists, Nura, who looked terrified and fearful, said they were running away because their Arabic teacher usually flogs them.
€œShowing scars of horse whips on his back, Nura said €œI ran away from my school because my teacher was always flogging me even when I am reciting the Quaran that is why I decided to run away to meet my parents in Binin Kudu€.
Nura who could neither identify the name of his Arabic teacher nor the school in Bauchi said he was in primary 2 in Binin Kudu before his father brought him to Bauchi.