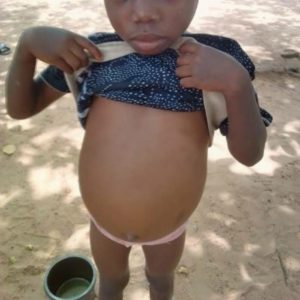 A four year old girl in Abakaliki, Ebonyi state, Uloma Igwe, has been used by her mother as collateral for N100 she borrowed from a widow, Nwali Josephine.
The girl's mother, Veronica Igwe, owed Nwali Josephine N100 during transaction at Abakaliki Rice Mill.
The woman insisted that she must be paid the money and Veronica Igwe decided to use one of her children in exchange of the money pending when she will pay back.
Nwali then took Uloma to her house at CAS campus of Ebonyi State University, Abakaliki, where she has been since nine months.
However, the bubble burst when the girl became seriously sick with a swollen stomach.
A resident of the area contacted the state Ministry of Women Affairs and Social Ministry who stormed Nwali's house and rescued the girl.
The ministry is currently making preparations to take Uloma to hospital for medical treatment.
Nwali was summoned by the Ministry and handed over to the police.
Mrs. Elom Cecilia in charge of child maltreatment at the Minsitry confirmed the incident.
"It is child abuse and exploitation because the poor girl did not transact any business with her. This is a serious child abuse
"We received a call that a woman called Nwali Josephine was maltreating children. We hastened up immediately and went to the scene and saw the children. One of the children is four years. Her biological mother, Veronica Igwe told us that she doesn't even know the woman she sold her child.
"She told us that she met the woman at Rice mill Abakaliki and bought something on credit from the woman. She said she could not pay the woman N100 that was remaining and suggested to the woman to take her child if she cannot endure for her to pay her the money and the woman accepted to take the child.
"We invited Mrs. Veronica to our office and she honoured our invitation. After interviewing her, we handed her over to the police for further investigation. The child has not been united to her parents because she is sick. We are taking her to hospital because her condition is very bad".
On his part, Director of Child Welfare and Protection in the Ministry, Godwin Igwe, described it as child trafficking.
The child was placed on debt bondage and it is one of the criteria for human trafficking. The woman who took this girl for N100 debt is a widow, she gave birth to a baby last Saturday and she has three children already before the present baby", he said.