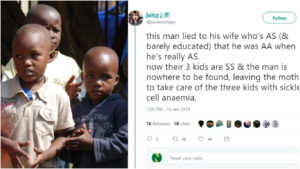 A Nigerian man has reportedly abandoned his wife and three sickled celled children at a hospital in Gbagada, Lagos state. It was reported that the man had lied to his wife about his genotype when they got married.
The unidentified man who is AS had deceived his wife who is also AS into thinking his genotype is AA. He has reportedly left his wife to deal with the children who are sick at the moment and are on admission at the hospital.
This story was shared by a twitter user with the handle:juicy j.
It is important that partners should know their genotype before marriage to avoid bringing children to suffer in the world.