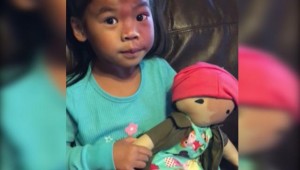 6-year-old Corina, was born with a condition that caused birthmarks on her body and face. A few months after she was born, she was given up for adoption.
The parents were thrilled to have the little girl in their lives, but mom soon noticed that Corina would cover her face whenever people would look at her. And as she grew older and aware of her appearance, Corina would often ask if she was "beautiful."
When it was obvious that Corina was still self-conscious, mom started looking around for solutions. She soon came across a company which creates dolls that have the same qualities as the children that they're created for.
Mom purchased a doll for her daughter, who was instantly in love. The doll, named Kukala, has birthmarks identical to Corina's.
Corina adores Kukala. She does her hair, paints her nails, and even sings to her. Corina also regularly tells Kukala that she loves her.
"Now we're seeing the therapeutic effects of how much it means to have a doll that looks just like her," Mom says. "We hope it's helping her to love her birthmark and realize that it makes her beautiful just like her doll."