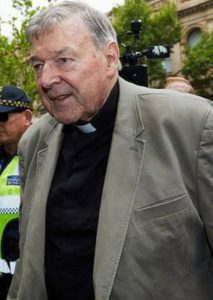 Cardinal George Pell, Australia's highest ranking Catholic, has been found guilty of raping a choirboy and molesting another in the 1990s
77-year old Pell is the Vatican's treasurer and is the most senior Catholic clergyman to be found guilty of child sex offences anywhere in the world.
He was found guilty of four counts of indecent assault and one count of rape by a Melbourne jury last December, following three days of deliberations.
The dramatic verdict could only be revealed after a court gag order was lifted on Tuesday.
His conviction has led some Australian institutions to strip him of honours and titles, with a Ballarat school scratching 'Pell' off a building named in his honour.
Pell, who is unwell, today limped from court surrounded by a brigade of yellow-vested police officers, with a passerby screaming for him to 'rot in hell'.
He is expected to lose his freedom on Wednesday, with a judge saying his bail will be revoked following a pre-sentence hearing.
It can now be revealed that Pell's victims were two 13-year-old boys on scholarships to the prestigious St Kevin's College.
The two boys were caught by Pell (who was then newly installed as Archbishop of Melbourne) after a Sunday solemn mass in late 1996 swigging sacramental wine in the priest's sacristy.
Pell scolded the boys, then exposed his penis from beneath his ornate ceremonial robes, and molested the two boys. He forced one to perform oral sex on him, the court was told.
Pell had repeatedly and vehemently denied the accusations against him, and Pope Francis had granted him a leave of absence to return to Australia to defend himself. He has lodged an appeal of his conviction.
One of the victims, now in his 30s, brought the allegations to police after years of having struggled to understand what he'd experienced.
The boy said he was sexually assaulted again by Pell a month or so after he was raped, recalling that he was pushed against a cathedral wall by Pell, who is now a Cardinal.
'He shoved me against the wall violently and squeezed my genitals,' the court was told.
Pell's other victim died in 2014 in accidental circumstances.