A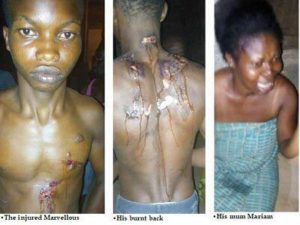 17-year-old boy, Marvellous has revealed how his father allegedly maltreated and burnt him with pressing iron.
Marvellous, a candidate of the ongoing West African Senior School Certificate Examinations, alleged that he was also beaten, chained, and dragged naked on the street by his father last Sunday in their Ifedapo Estate, Ikorodu, Lagos home.
He told The Nation that his father insisted on not paying for the balance of his WASSCE fee on claims that he doesn't participate in the family's domestic work.
He also expressed his wish to be taken away from home.
The teenager said he was at his friend's place, close to his parents' residence, when his dad came to pick him up.
"He beat me there, stripped me naked and dragged me from there to our house, less than three kilometres away," he said.
"When we got home, he used a dog chain to beat me. The chain hit me on my private parts and I got injured. While that was ongoing, my mother was boiling water, daddy wanted to pour the hot water on me, but I don't know why he changed his mind.
"He later plugged the iron and pressed it on my back for like 50 seconds each; he did this like five times. He then chained me to the burglary," he added.
According to Marvellous, his mother, Mariam, also didn't spare him, as she allegedly proceeded to spit on him.
"While I was chained, my mummy poured the urine of my younger ones on my body and she spat on me," he said.
He, however, admitted to stealing in the community, saying he steals because of his parents' refusal to give him food.
The Lagos State Police Spokesman Chike Oti, confirmed Erewa's arrest, and that investigation had begun into the case.