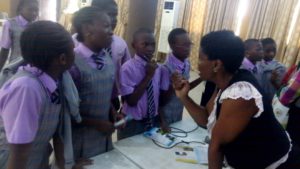 As CRACO continues her End Violence Against Children Campaign tour to schools, we want to remind parents that they have their roles to play in protecting their children. The rate of sexual violence against children in our society today requires that all hands must be on deck to salvage the lives and future of our children. While we do our best as a child rights organisation, parents must also complement our efforts:
Teach your children the following it will help protect them from sexual abuse:
1. Every area of the body covered by underwear is called private and no one is permitted to touch them.
2. Private is PRIVATE to them irrespective of the individual. Their teachers and their friends have no business with their private (Siblings and some parents also abuse children).
3. They should not agree to touch another person's private, and let nobody show them their private. They should always tell a trusted adult if any such thing happens.
4. Empower them to say NO and mean it, (Break the myth of 'Adults are always right'. During our seminar at Cayley College, a student asked us the place of Respect to elders when a child is being abused. Teach them that in such situation, respect should be thrown into the jungle. Such elders do not deserve respect. They should shout, kick, bite, beat, slap, and do anything that will help them out. And thereafter, REPORT).
5. Build confidence in your child/ ward, Let them have a positive self image.
6. Assure them over and over of your unconditional love and support, let them know they can talk to you about practically anything and everything, and that it is not their fault if they are abused or violated.
7. Watch out for any adult with unnecessary affection for your child.
Let's protect our children.