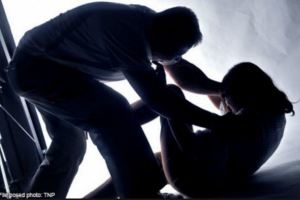 A 22-year-old male teacher has been arrested by the Police in Benue State for sexually harassing three of his pupils at Kzito Nursery and Primary School, Eke in Okpokwu Local Government Area of the state.
The teacher, Emmanuel Duke, was paraded Thursday at the police headquarters in Makurdi on allegation of committing unnatural offence.
State Police Commissioner, Bashir Makama, who paraded the suspect, said the teacher was in the habit of having carnal knowledge of his male pupils during school hours.
The suspect's victims, all of Primary 5 in an interview with Daily Trust alleged that their class teacher (Duke) at different times asked them to wait behind after close of school and that when everyone was gone, he blindfold them and had sex with them.
"My class teacher (Duke) on May 2, this year asked me to wait behind after school. When everybody was gone, he took me to Primary 2 classroom and blindfolded me with a red handkerchief, then he pulled my trousers and had sex with me through my anus," one of them (a minor) said.
The other two who are also minors narrated that the suspect had molested them for nearly two months but they were afraid to report him because he threatened to deal with them if they did.
But, the bubble however bursted after the teacher himself on suspicion that he was being gossiped in the school went to the mother of one of the boys to ask her to caution her son from scandalising his name.
"He reported the matter to my mother and when I was questioned, I disclosed what had been going on between us. That was how the police was called into the matter and we were brought here to Makurdi to tell our stories", one of the boys said.
Meanwhile, the suspect, whose father hailed from Cross River State and mother, an indigene of Ohimini LGA in Benue where he grew up, denied the allegations, insisting that, he didn't do it.
"I'm accused of homosexual practice but I didn't do it. I was in school recently when five of my pupils (including the three present here) came to me that they wanted to have a private talk with me which I obliged them after my initial refusal. They told me the devil was using me and I needed to repent.
"They accused me of tying their eyes with red handkerchief and having sex with them. I was troubled so I went to report the matter to the mother of the eldest among them but before I knew what was happening, the woman brought her relatives and the police was called to arrest me," the suspect narrated